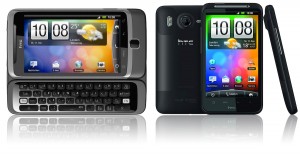 Två nya mobiler från HTC!!!
HTC har annonserat att både Desire HD och Desire Z kommer släppas i oktober. Båda modellerna kommer släppas i Sverige och dem kommer att säljas operatörslåsta, till jämförelse mot exempelvis England, där är mobilen operatörslåst till Vodafone.
Desire HD
HTC Desire HD har en stor SLCD-skärm om 4,3″ med WVGA-upplösning (480x800px) och bygger även den på en ny plattform från Qualcomm. Det rör sig om SoC-lösningen MSM8255 som huserar en 1GHz Scorpion-processor (45nm) samt samma grafikdel som vi hittar i Desire Z, det vill säga Adreno 205. Varför plattformen inte heter QSD, som föregångaren QSD8250, beror på att man flyttat ut RF-chippet från basbandsprocessorn.

Vidare har Desire HD väl tilltaget med RAM om hela 768MB och detsamma kan sägas om mängden ROM som är på 1,5GB.

Telefonen saknar batterilucka i traditionell benämning då chassit är en så kallad semi unibody-konstruktion, något som innebär att delar av chassit är utskuret är en enda bit metall. Detta innebär att telefonens batterilucka i själva verket sitter på sidan av telefonen och att batteriet därmed skjuts in.

Källa: http://www.swedroid.se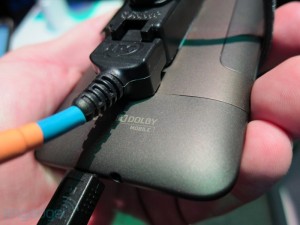 Desire HD Specifkationer:
* 1 GHz processor, Qualcomm MSM8255
* Android 2.2 (Froyo) with HTC Sense
* Internal phone storage: 1.5 GB
* RAM: 768 MB
* 123 x 68 x 11.8 mm (4.84 x 2.68 x 0.46 inches)
* 164 grams (5.78 ounces) with battery
* 4.3-inch SLCD touch screen with 480 x 800 resolution
* HSPA/WCDMA: • Europe/Asia: 900/2100 MHz • Upload speed of up to 5.76 Mbps and download speed of up to 14.4 Mbps
* Quad-band GSM/GPRS/EDGE: 850/900/1800/1900 MHz
* Internal GPS antenna
* G-Sensor
* Digital compass
* Proximity sensor
* Ambient light sensor
* Bluetooth® 2.1 with FTP/OPP for file transfer, A2DP for wireless stereo headsets, and PBAP for phonebook access from the car kit
* IEEE 802.11b/g/n WiFi
* 3.5 mm stereo audio jack
* Standard micro-USB (5-pin micro-USB 2.0)
* 8.0 megapixel color camera with auto focus and 2x LED flashlight
* 720p HD video recording
* Audio supported formats – Playback: .aac, .amr, .ogg, .m4a, .mid, .mp3, .wav, .wma (Windows Media Audio 9) • Recording: .amr
* Video supported formats – Playback: .3gp, .3g2, .mp4, .wmv (Windows Media Video 9), .avi (MP4 ASP and MP3), .xvid (MP4 ASP and MP3) • Recording: .3gp
* 1230 mAh battery
* Talk time: Up to 320 minutes for WCDMA, Up to 550 minutes for GSM
* Standby time: Up to 490 hours for WCDMA, Up to 420 hours for GSM
* microSD expansion (SD 2.0 compatible)
* 100 ~ 240 V AC, 50/60 Hz DC output: 5 V and 1 A AC adaptor
* Dolby® Mobile and SRS surround sound
* Share pictures, video or music to your big screen TV or PC display via DLNA® (Digital Living Network Alliance)
HTC Desire Z.
Till nyheterna med denna plattform hör lägre strömförbrukning (45nm) samt en ny grafikdel (Adreno 205) som Qualcomm uppger skall vara upp till fyra gånger snabbare än föregångaren Adreno 200 (X10-serien, Desire, Nexus One m.fl.).

Källa: http://www.swedroid.se
Desire Z specifikationer:
* 800 MHz Processor Qualcomm MSM7230
*Android 2.2 (Froyo) with HTC Sense
*Internal phone storage: 1.5 GB
*RAM: 512 MB
*119 x 60.4 x 14.16 mm (4.69 x 2.38 x 0.56 inches)
*180 grams (6.35 ounces) with battery
*3.7-inch SLCD touch screen with 480 x 800 resolution
*HSPA/WCDMA: • Europe/Asia: 900/2100 MHz • Upload speed of up to 5.76 Mbps and download speed of up to 14.4 Mbps
*Quad-band GSM/GPRS/EDGE: 850/900/1800/1900 MHz
*Optical Trackpad
*Z-slider QWERTY keyboard
*Internal GPS antenna
*G-Sensor
*Digital compass
*Proximity sensor
*Bluetooth® 2.1 with FTP/OPP for file transfer, A2DP for wireless stereo headsets, and PBAP for phonebook access from the car kit
*3.5 mm stereo audio jack Standard micro-USB (5-pin micro-USB 2.0)
*5.0 megapixel color camera with auto focus and flashlight
*720p HD video recording
*Audio supported formats – Playback: .aac, .amr, .ogg, .m4a, .mid, .mp3, .wav, .wma (Windows Media Audio 9) • Recording: .amr
*Video supported formats – Playback: .3gp, .3g2, .mp4, .wmv (Windows Media Video 9) • Recording: .3gp
*1300 mAh Battery
*Talk time: • Up to 400 minutes for WCDMA • Up to 590 minutes for GSM
*Standby time: • Up to 430 hours for WCDMA • Up to 430 hours for GSM
*microSD expansion (SD 2.0 compatible)
*100 ~ 240 V AC, 50/60 Hz DC output: 5 V and 1 A AC adaptor
*Share pictures, video or music to your big screen TV or PC display via DLNA® (Digital Living Network Alliance)